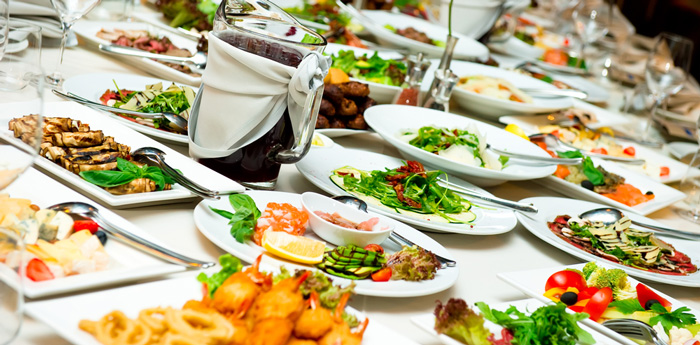 Glasgow folk love Hog Roast Glasgow catering – and there are various reasons for that, but probably one of the biggest reasons that people choose a hog roast from us over the alternative is because our menus are just so darn good.
The reason our menus are so good for a hog roast in Glasgow is because there's so many of them, and each one of them gives you something different, in effect we have a menu for each event and occasion. Because each event offers up something a little different we believe it only apt that we have menus for each event offering a unique flavour and service for your unique event.
The menus have many differences within them, and we have a category system of menus for 3 specific types of events to help you find a menu that's suitable for your occasion. Our menus are categorised within 3 sections: a section for corporate catering; a section for party catering; and a section for wedding catering.
Why Choose Hog Roast Glasgow?
It's clear to us that there's a big difference between a wedding and a birthday party and the menus that we have represent those differences. So if you're looking for a wedding menu then the wedding section is a great place to start, with various menus for different wedding catering needs. On the other hand, if a hog roast for a party is what you're looking for then you'll find many different party menus to suit your party event.
Keep in mind though that our categories are little more than guidelines, designed to give people a helping hand in finding a menu that's right for them. So if you like the increased service that comes with a wedding menu, such as the front of house or drinks on arrival, then you can have the same at your event, regardless of whether it's a wedding or not. It's always been our intention to give customers plenty of leeway when it comes down to the time of picking and choosing their menus for a hog roast.
And it's not an exaggeration to say that when it comes to flexibility with menus you would be given a hard task to find a caterer who's as laissez-faire as we are. We don't object to customers taking the bull by the horns and making changes to a menu, we don't even mind if you think you can make a whole menu that's better than ours, so long as we have the equipment to make the food—and we usually do—we're happy for you to work with us to come up with a whole new bespoke menu.
We're not arrogant at Hog Roast Glasgow and you we'll never respond to your ideas with offence at the idea you could make our ideas better, we like to think we have a good handle on reality and it's obvious to us that no matter how well made our delicious foods are, some foods and meals just aren't for everybody's taste, and you and your guests might really want something that isn't on any of the set-menus at the moment.
Hog Roasts & A Variety Of Dishes
Working with changed menus has always been beneficial to us, even now many of the foods we have on our set-menus were included after having a request for them in previous services and seeing just how good tasting and well received they were.
It's easy to find a menu you like with Hog Roast Glasgow because there are so many of them, and they're all filled with never ending possibilities and food combinations. Despite catering for a hog roast in Glasgow thousands of times there are still so many food combinations in our menus that haven't been selected yet, and that's a real testament to all the options there are when picking your menu.
We take the big and small events, and for a hog roast it's not just our focus on the finer details that's led us to be the great food specialists we are, it's equally about our focus on the key aspects of our service, a focus on the big things – The equipment, the produce and the chefs.
For example, Hog Roast Glasgow places a great deal of emphasis on the produce that we cook with for a hog roast. As far as we're concerned good produce is paramount, and you won't find anything less than the very best in the Hog Roast Glasgow kitchen. The standards that we have concerning produce are at the very highest, we refuse anything other than fresh, locally grown/raised organic produce for our event catering. Supporting local, independent farmers with our frequent custom is very important to us; it's another way for us to give back to a community that's given so much to us.
The key component in a Hog Roast Glasgow even catering meal tasting so good is because we use the first class ingredients that we buy from local farmers, and we use them with our own made hog roast machines. The exceptional produce we use and our sought-after menus go hand in hand in making all of our hog roast services second to none.
[peekaboo]
[peekaboo_content]
Hire A Machine For Your Catering Event
We're known well in Glasgow for our trademark hog roasts, hog roasts that taste unimaginably good and surprise guests, even those who had the highest expectations and already have had a hog roast before. But Hog Roast Glasgow takes the leads on a whole range of things, not least of which the proud versatility of the foods we can and do cook for a hog roast. You might think the region's best known hog roaster would restrict themselves to just hog roasting, but not us, Hog Roast Glasgow also has a plethora of other foods that are amazing, as good as any other traditional caterer could hope to make. Be it a tasty little canapé, a soothing soup or a spectacular couscous salad, there's so much about Hog Roast Glasgow to love.
If you find a menu you like the looks of we'll give you a quote on the same day or the next working day.
[/peekaboo_content]