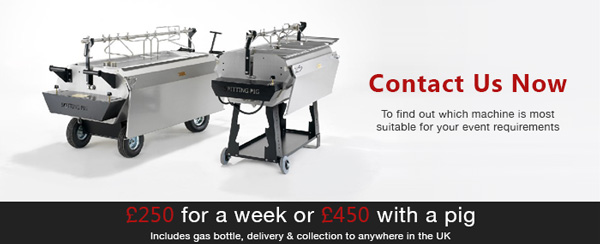 The bulk of the customers we have use Hog Roast Glasgow for our amazing hog roast catering, but for many customers they know of our prowess and great services for something completely different – hog roast machine hire. To hire a machine from us is not just about getting the most scrumptious hog roast available to man; it's just as much about cutting costs and having that tremendously tasty food at shockingly low prices!
Very few people realise that you can hire a hog roast machine from Hog Roast Glasgow, the number of people who know that the service starts at incredibly low prices for a hog roast event is even lower still. When well tell our customers about our hog roast machine hire their reaction is that of shock, shortly followed by glee, when they realise that the beautiful hog roast catering they had at their event can be had again, and again, and again. And it's all at a reasonable price that makes hog roasting more accessible to people in Glasgow.
Suitable For All Occasions
You might have looked into a hog roast before and seen the cost of catering and decided that it costs too much, but with Hog Roast Glasgow machine hire that's not the case, you can get the hog roast you've been dreaming about. At prices that good who could possibly resist? Judging from the number of people who book our machines it seems not many of you can, and who could possibly blame you – the price is as tempting as the hog roast food itself!
There are so many different reasons to hire a machine that it would take too long to give name to them individually, as we see it there are 2 reasons that you could have for hiring a machine: for private use or for commercial use. There's a big difference between the two purposes and that's reflected quite clearly with the different types of hog roast machines that we have for hire for a hog roast.
We have a list of on-going clients who use our machines in a professional capacity within their own restaurants, pubs, and even in conjunction with their own hog roast catering services. These customers have a pretty intensive use for our machines, using them daily and cooking for a great deal of people, which is why they hire our largest machine, which is capable of cooking for over 300 people with a pig that tips the scales at over 90kg.
The hog roast machine for these commercial activities is more expensive. But the machine isn't just for commercial use, if you're thinking of hiring a machine for your own event and you have a big enough guest list then you're going to need our biggest machine too. Alternatively you could hire 2 smaller machines and cook 2 different animals for a spit roast. It's entirely up to you how you want to do it for your hog roast.
How you use the machine is up to you, the smaller machine is often hired for parties and in the summer we receive a lot of machine hire bookings when the barbecue season comes. Hiring a machine for a hog roast in town barbecue is exceptionally popular, the reasons are clear, a hog roast and a barbecue are a match made in heaven. Hog roasting under the sun is a great past time and so is a barbecue; why not combine the two with our stupendous hog roast machines? The machines we have for hire can spit roast whole animals, but there's also a barbecue function in some of our spit roast machines, so you can kill two birds with one stone by hog roasting and barbecuing burgers, sausages, kebabs and chicken wings at the same.
All machines come with gas and a free service of delivery and collection by our team. And there's no need to worry about not knowing about hog roasts because our expert will show you how the machines work on delivery. All in all a hog roast can be enjoyed in all its glory if you hire a machine from Hog Roast Glasgow.